This week we go behind the controller and speak with the accomplished Director of Photography Blair Madigan. Based in Los Angeles California, Blair has been filming on the ground and in the air for a variety of TV documentary series and commercial clientele. We had the opportunity to speak with Blair to find out a little bit more about his recent filming experience in the country of Brazil, and how drone technology has helped take his work to greater heights.
Hi Blair, tell us a little bit about yourself.
Hello!  My name is Blair Madigan, and I am a freelance Director of Photographer who captures photo and video imagery for TV documentary and TV commercials.  I am also a Part 107 Drone Pilot and have been flying drones professionally for over 4 years now.
Tell us a little bit about the project you recently completed in Brazil?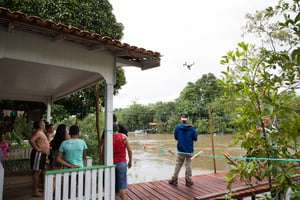 I was hired to film a commercial for a broadband company launching new satellite internet service to the rural areas of Brazil. A lot of Brazil is still living without internet or do not have easy access to connecting to the world wide web. In order to help capture the vast landscape of the villages we visited, a drone was a necessity!
Any highlights / stories you can share about your time in Brazil?
On the trip we flew in a small village where the kids had just got out of class. I was instantly swarmed by the kids when they saw that the drone I was flying. They were so impressed that the drone had a camera on it that was viewable on my IPhone connected to the controller. The kids kept telling me in Portuguese to fly over their houses so they could see what it looked like from the air. The kids were amazed at the drone, so I had to take a photo of them standing in front of it. It's moments like this that I am extremely grateful to be able to travel and bring experiences to people that they will remember forever. I hope I was able to inspire some of those kids to pursue their interests in UAS and general aviation.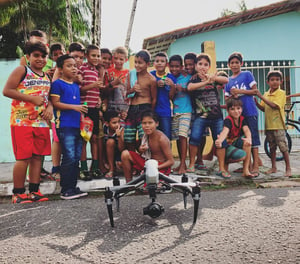 You recently acquired the Inspire 2 with the X7 camera. Tell us, how beneficial was it to have this system on this project in Brazil?
This is the 2nd project I have filmed with this company and on the first project we used the phantom 4 for its ease-of-use and quick set up. The quality of the X7 system almost didn't look real. The ProRes 4K files we recorded were easy to download from the SSD and ingest into our edit platform. The Inspire 2 response and range was incredible. My first flight of the trip was flying 4000 feet from the launch position, over the water to orbit around a bridge in Brasilia. I never lost connection with the drone and my wireless video never cut out. Having the confidence in your drone equipment is important and I never had any doubt that the Inspire 2 would not be able to perform the task I wanted it to do.
What are your thoughts on the Inspire 2 system for the type of work you do in your industry?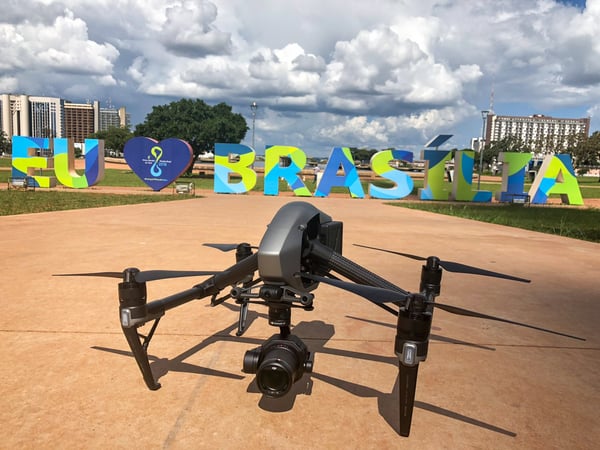 The industry just got handed a game changer. The Inspire 2 is an amazing tool that will finally allow people to capture aerial images on a super 35mm format in Raw and ProRes quality without the need for high capacity batteries or the use of a heavy lifting 8 prop drone. You cannot beat the power of this compact turnkey package.
How was the service and support of the UAS Thermals team for your purchase?
The service and support of UASThermals team backed by Planet Inhouse was top notch! Cassandra helped with making sure I had everything I needed in my new Inspire 2 kit. She even helped me get serial numbers before the drone was shipped to me so I could legally get it into Brazil and get the permit to fly in the country. Without this extra support, I would have not been able to bring the Inspire 2 with me on the job and would have missed out on a wonderful aerial opportunity.
Would you recommend UAS Thermals to others?
I would definitely recommend my friends and fellow collages to UAS Thermals for any future drone purchases
Are you excited where the UAS industry is headed in relation to the type of work you do?
I am really excited about where things are headed in drone technology, especially in the Cinema Field. Drones are getting more compact and versatile without sacrificing quality. The battery life has also increased substantially, which has been a huge help in my field of documentary.
You can find more of Blair's work at www.blairmadigan.com and you can catch some of his work on TV networks such as History Channel, Discovery Channel, NATGeo, Travel Channel, and more!